Customer Awareness Center
CharterWest Bank is committed to protecting our customers' personal and financial information.  Maintaining our customers' trust and confidence is our priority.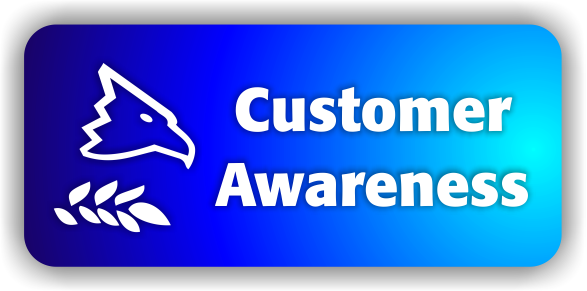 The threats to your personal and financial information change every day.  Criminals continue to develop and deploy more sophisticated, effective, and malicious methods to gain unauthorized access to your information and online accounts.  These crimes include identity theft, financial fraud, web site defacements, cyber bullying, hacking of company databases, and theft of intellectual data to name a few.  Many people think they can protect themselves, their accounts, and their computers/devices with just anti-spyware and anti-virus software, but additional methods are needed.  Organized criminal groups have become more specialized in financial fraud and have been successful in compromising security controls.  While the Bank maintains internal policies, procedures, security controls, and authentication methods to help protect your information there are many things you can do to understand your risks and help protect yourself.
Please click the following link to see our important policies and disclosures.
Users of Electronic Financial Services
CharterWest Bank will never call, email, or otherwise contact you to request your Access ID, password, or other security credentials for the electronic financial services we offer.  If you receive such a request, do not provide any information.  Please contact us immediately at 1-800-872-5147 to report the incident.
What you can you do to minimize your risks of becoming a victim
Use strong passwords – Use separate ID/password combinations for different accounts and avoid writing them down. Make the passwords more complicated by combining letters, numbers, special characters, and by changing them on a regular basis.
Secure your computer

Enable your firewall – Firewalls are the first line of online/cyber defense; they block connections from suspicious traffic and will keep out some types of viruses and hackers.
Use anti-virus/malware software – Prevent viruses from infecting your computer by installing and regularly updating anti-virus software.
Password protect your computer – Use individual logins and passwords.

Secure your mobile devices – Be aware that your mobile device is vulnerable to viruses and hackers. Download applications from trusted sources. Do not store unnecessary or sensitive information on your mobile device. It is also important to keep the device physically secure; millions of mobile devices are lost each year. If you do lose your device, it should immediately be reported to your carrier and/or organization. There are some devices that allow remote erasing of data. Be sure to keep your mobile device password protected.
Install the latest operating system updates – Keep your applications and operating system (e.g. Windows, Mac, Linux) current with the latest system updates. Turn on automatic updates to prevent potential attacks on older software.
Protect your data – Use encryption for your most sensitive files such as health records, tax returns and financial records. Make regular back-ups of all your important data.
Secure your wireless network – Wi-Fi (wireless) networks at home are vulnerable to intrusion if they are not properly secured. Review and modify default settings. Public Wi-Fi "Hot Spots" may also be vulnerable. Avoid conducting sensitive transactions on these networks.
Protect your electronic identity – Be cautious when giving out personal information such as your name, address, phone number or financial information on the Internet. Monitor your account activity. Make sure that websites are secure (https rather than http) especially when making online purchases, verify the active security status/encryption of the website (click the security icon in the address bar). Enable privacy settings (e.g. when accessing/using social networking sites, payment services, email).  Remember to Log Off or Log Out when finished, do not just close the page or "X" out.  Once something is posted on the Internet, it may be there forever.
Avoid being scammed – Never reply to emails that ask you to verify your information or confirm your user ID or password. Don't click on a link or file of unknown origin. Check the source of the message; when in doubt, verify the source by other means.
Fraud Prevention Services for Cardholders
CharterWest Bank further protects your accounts from fraudulent card transactions with Fraud Prevention Services.  Helpful tips to your financial safety, how to report suspicious card activity, and how to report a lost or stolen card can be found on our Fraud Prevention Services webpage (click the link above).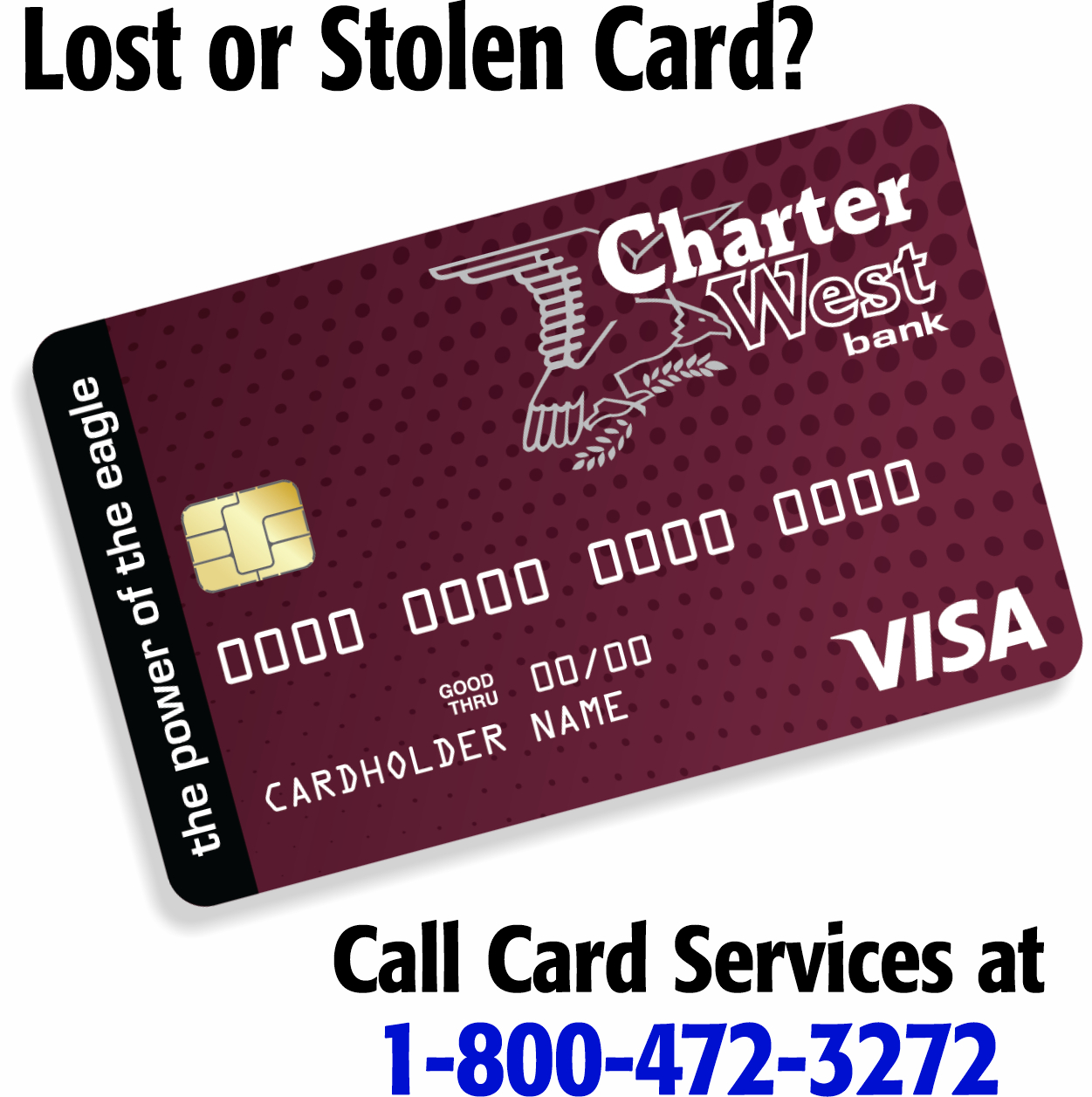 Reporting Suspicious Activity
If you see suspicious activity on your account(s) or have received a suspicious call, email, letter or other similar contact regarding your relationship to CharterWest Bank, call 1-800-872-5147 or your local branch.
Report theft or fraud ASAP
If you suspect you have been a victim, contact us and the credit reporting services:
Resource Links – Learn More
Business Customers
Businesses and business transactions may be at a bigger risk than consumer transactions due to their frequency and monetary value.  Businesses may become the victims of account takeovers, unauthorized wire/ACH transfers, and business email compromise.  Guidance indicates that businesses should consider enhanced controls over administrative access and business functions (including segregation of duties); understand the security features of software and websites utilized by the business; perform a risk assessment and evaluation of risk controls; and consider layered security processes such as out-of-bank verification, fraud detection/monitoring, and IP reputation-based services.  Below are helpful links for businesses.
Elder Abuse
Elder Abuse refers to intentional or negligent acts by a caregiver or "trusted" individual that cause (or have the potential to cause) harm to a vulnerable elder. Elder abuse can happen to anyone—a loved one, a neighbor, and, as we age, it can even happen to you.  Elder abuse can happen anywhere – in the home, in nursing homes, or in other institutions.  It affects seniors across all socio-economic groups, cultures, and races.  Based on available information, women and "older" elders are more likely to be victimized.  Dementia is a significant risk factor.
Common instances of Elder Abuse related to Financial Affairs:
Misappropriation of income and assets.
Excessive rent or fees for services.
Money or property obtained by undue influence, misrepresentation, or fraud.
Improper or fraudulent use of the power of attorney or fiduciary authority.
Pigeon drop – perpetrator claims to have found a sum of money and offers to split it with an elder but the elder must first withdraw an equal amount of money as good faith.
Fake accident ploy – perpetrator convinces an elder that a family member is ill or in need of assistance.
Telemarketing and mail fraud.
Fake prizes.
Unsolicited work.
To report suspected elder abuse, neglect, or financial exploitation, call the Nebraska Adult Protective Services 24-hour, toll-free hotline at 800-652-1999 or call your local law enforcement. Visit the Nebraska Department of Health & Human Services at DHHS Elder Abuse Online for more valuable information.
The U.S. Senate Special Committee on Aging has a toll-free hotline that makes it easy for senior citizens to report suspected fraud and receive assistance. It is staffed by a team of expert investigators weekdays from 8 a.m. to 4 p.m. CT. Call the fraud hotline at 855-303-9470, or visit www.aging.senate.gov/fraud-hotline.
Loan Customers – Wire Fraud Warning
CharterWest WILL NEVER email to ask you to wire or to send funds to ANYONE, not even a title company.
NEVER TRUST WIRING INSTRUCTIONS SENT IN AN EMAIL! 
Cyber criminals are hacking email accounts and sending email with fake wiring instructions.  These emails are extremely convincing – right down to the email signature line but with slightly different phone numbers or email addresses.  It is extremely important that you never wire money
without confirming wiring instructions in person or through phone call with a trusted and verified phone number.  Once your money is wired, it is GONE!